Callaway Epic Flash - 2019

The New Callaway Epic Flash Drivers and Fairway Woods
Callaway are on a mission to change the way golf clubs are created by employing the very latest technology and the result is the 2019 Epic Flash. The first and most obvious addition to the 2019 Epic flash is the club face. Every golfer knows the feeling of a solid contact that sends the ball down range and top speed but what if that top speed was higher for no extra effort? This is the purpose of the Flash Face. Developed using A.I. and machine learning to take experiential human influence out of the equation. The Flash Face was created by simulating 15,000 iterations of a club face to determine the optimal shape and surface topography to maximise ball speed. All too often new clubs are hampered by the very human habit of maintaining design trends and sticking to what has worked in the past. By employing a computer simulation that learns without past bias a new way of thinking can be uncovered and greater gains can be made.
Epic Flash Driver - Flash Face Technology
The 2019 Epic Flash Driver has some familiar features but, on closer inspection, it becomes clear this is a whole different beast. The most obvious new addition is the Flash Face that truly is like nothing else on the market. For the first time A.I. has informed the design of the face and the result is completely original. Behind this incredible new club face is the tried and true Jailbreak technology the reinforces both crown and sole so that less impact force is wasted through dissipation. At address the new T2c triaxial crown becomes apparent. This is a subtle change but the new triaxial material saves critical weight that has been redistributed to increase MOI.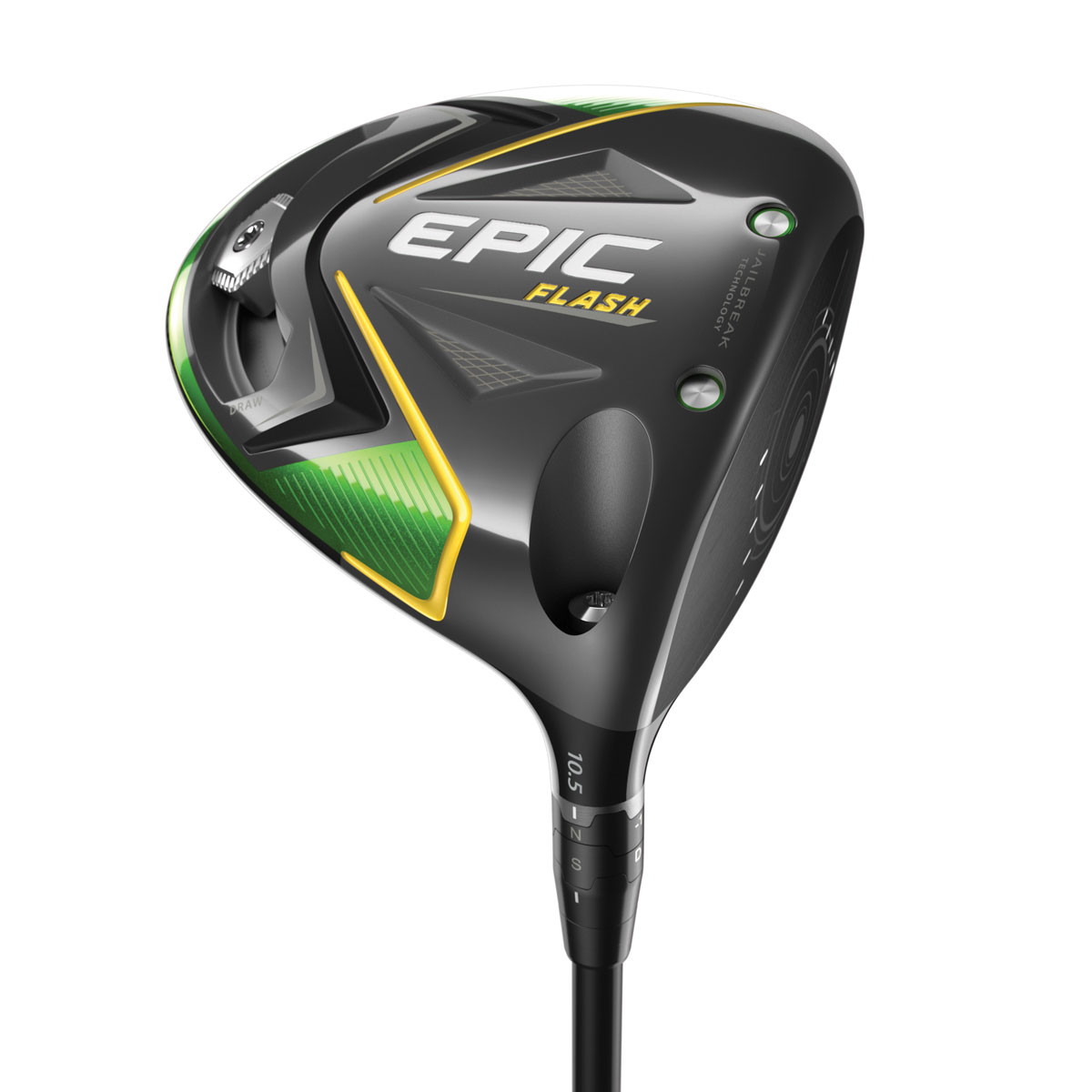 Epic Flash Fairway Wood
The 2019 Epic Flash fairway woods are a combination of unprecedented ball speed with a level of forgiveness that inspires ultimate confidence. The same Flash Face technology has been deployed here as in the Epic Flash driver and was developed using the same artificial intelligence but in the fairway wood it goes a step further. Backed by a forged 455 Carpenter steel face cup the incredible ball speed is maintained across the entire face so even when hit off center the result is still incredible. The now familiar Jailbreak technology stiffens the crown and sole to maximise energy transfer and a new OptiFit hosel has been redesigned to reduce weight and reposition CoG.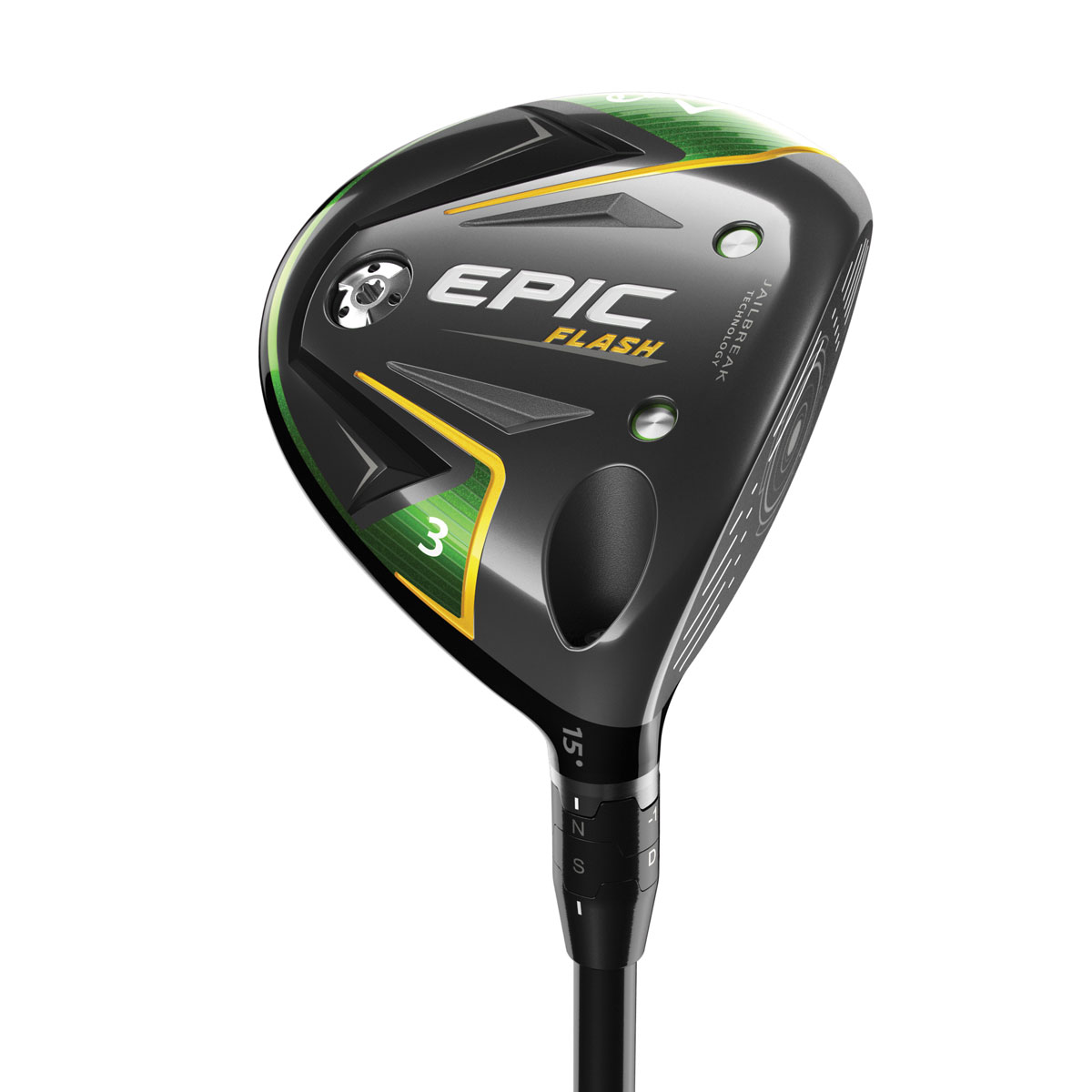 Mens Epic Flash Driver Product Specs
| Model | Loft | Availability | Standard Length | Lie | CC | Swing Weight |
| --- | --- | --- | --- | --- | --- | --- |
| 9° | Adjustable (8°-11°) | RH / LH | 45.50" | 58.00° (Adjustable) | 460 | D3 |
| 10.5° | Adjustable (9.5°-12.5°) | RH / LH | 45.50" | 58.00° (Adjustable) | 460 | D3 |
| 12° | Adjustable (11°-14°) | RH / LH Custom Only | 45.50" | 58.00° (Adjustable) | 460 | D3 |
Project X Even Flow Green 40 Graphite
| Manufacturer | Flex | Shaft Weight | Torque | Kickpoint |
| --- | --- | --- | --- | --- |
| True Temper | Light | 46 | high | low |
| True Temper | Regular | 47 | high | low |
Project X Even Flow Green 50 Graphite
| Manufacturer | Flex | Shaft Weight | Torque | Kickpoint |
| --- | --- | --- | --- | --- |
| True Temper | Light | 59 | mid-high | mid-low |
| True Temper | Regular | 59 | mid | mid-low |
| True Temper | Stiff | 59 | mid | mid |
Project X HZRDUS Smoke Black 60 Graphite
| Manufacturer | Flex | Shaft Weight | Torque | Kickpoint |
| --- | --- | --- | --- | --- |
| True Temper | Regular | 59 | low-mid | mid-high |
| True Temper | Stiff | 59 | low | high |
Project X HZRDUS Smoke Black 70 Graphite
| Manufacturer | Flex | Shaft Weight | Torque | Kickpoint |
| --- | --- | --- | --- | --- |
| True Temper | Stiff | 67 | low | high |
| True Temper | X-Stiff | 70 | low | high |
Mitsubishi Tensei AV Blue 60 Graphite
| Manufacturer | Flex | Shaft Weight | Torque | Kickpoint |
| --- | --- | --- | --- | --- |
| Mitsubishi | Regular | 65 | low-mid | mid |
| Mitsubishi | Stiff | 67 | low-mid | mid |
| Mitsubishi | X-Stiff | 68 | low-mid | mid |
Mens Epic Flash Fairway Wood Product Specs
| Name | Loft | Loft Range | Availability | Standard Length | Lie | CC | Swing Weight |
| --- | --- | --- | --- | --- | --- | --- | --- |
| 3+W | 13.5° | 12.5° - 15.5° | RH Only | 43.00" | 56.00° (Adjustable) | 178 | D2 |
| 3W | 15° | 14° - 17° | RH / LH | 43.00" | 56.00° (Adjustable) | 180 | D2 |
| 5W | 18° | 17° - 20° | RH / LH | 42.50" | 56.50° (Adjustable) | 159 | D2 |
| Heavenwood | 20° | 19° - 22° | RH / LH | 42.75" | 56.50° (Adjustable) | 168 | D2 |
| 7W | 21° | 20° - 23° | RH / LH | 42.00" | 57.00° (Adjustable) | 147 | D2 |
| 9W | 23° | 23° | RH Only | 41.50" | 59.00° | 143 | D2 |
| 11W | 25° | 25° | RH Only | 41.00" | 59.50° | 140 | D2 |
Project X Even Flow Green 50 Graphite
| Manufacturer | Flex | Shaft Weight | Torque | Kickpoint |
| --- | --- | --- | --- | --- |
| True Temper | Light | 59 | mid-high | mid-low |
| True Temper | Regular | 59 | mid | mid-low |
| True Temper | Stiff | 59 | mid | mid |
Project X HZRDUS Smoke Black 70 Graphite
| Manufacturer | Flex | Shaft Weight | Torque | Kickpoint |
| --- | --- | --- | --- | --- |
| True Temper | Stiff | 67 | low | high |
| True Temper | X-Stiff | 70 | low | high |
Mitsubishi Tensei AV Blue 70 Graphite
| Manufacturer | Flex | Shaft Weight | Torque | Kickpoint |
| --- | --- | --- | --- | --- |
| Mitsubishi | Regular | 74 | low-mid | mid |
| Mitsubishi | Stiff | 77 | low-mid | mid |
| Mitsubishi | X-Stiff | 78 | low-mid | mid |
Project X HZRDUS Smoke Black 80 Graphite
| Manufacturer | Flex | Shaft Weight | Torque | Kickpoint |
| --- | --- | --- | --- | --- |
| True Temper | X-Stiff | 82 | low | high |
Project X Even Flow Green 60 Graphite
| Manufacturer | Flex | Shaft Weight | Torque | Kickpoint |
| --- | --- | --- | --- | --- |
| True Temper | Light | 63 | mid-high | low-mid |
| True Temper | Regular | 65 | mid | low-mid |
| True Temper | Stiff | 66 | mid | mid |
Project X Even Flow Green 40 Graphite
| Manufacturer | Flex | Shaft Weight | Torque | Kickpoint |
| --- | --- | --- | --- | --- |
| True Temper | Light | 46 | high | low |
Women's Epic Flash Fairway Wood Product Specs
| Name | Loft | Loft Range | Availability | Standard Length | Lie | CC | Swing Weight |
| --- | --- | --- | --- | --- | --- | --- | --- |
| 3+W | 13.5° | 12.5° - 15.5° | RH Only | 42.00" | 56.00° (Adjustable) | 178 | C7 |
| 3W | 15° | 14° - 17° | RH / LH | 42.00" | 56.00° (Adjustable) | 180 | C7 |
| 5W | 18° | 17° - 20° | RH / LH | 41.50" | 56.50° (Adjustable) | 159 | C7 |
| Heavenwood | 20° | 19° - 22° | RH / LH | 41.75" | 56.50° (Adjustable) | 168 | C7 |
| 7W | 21° | 20° - 23° | RH / LH | 41.00" | 57.00° (Adjustable) | 147 | C7 |
| 9W | 23° | 23° | RH Only | 40.50" | 59.00° | 143 | C7 |
| 11W | 25° | 25° | RH Only | 40.00" | 59.50° | 140 | C7 |
Project X Even Flow Green 50 Graphite
| Manufacturer | Flex | Shaft Weight | Torque | Kickpoint |
| --- | --- | --- | --- | --- |
| True Temper | Women's | 48 | high | low |