Callaway Mack Daddy 4 Wedges
Mack Daddy 4 Sets the Standard for Wedge Performance
The new Callaway Mack Daddy 4 Wedges represent the fruit of a collaborative endeavour between legendary clubsmith Roger Cleveland, the Callaway R&D team and, of course, tour players themselves. The new standard of wedge performance has been set by the combination of expertise, hard work, cutting edge technology and premium componentry
New for 2018 "Groove-in-Groove" Technology
Increasing spin to stop a shot dead has been at the forefront of the minds of Callaway's development team. This is not as easy as it may seem! No strangers to tight tolerances the team set about developing a host of features to achieve this seemingly straightforward goal and came up with a truly innovative solution. Low lofts of 52° and below come with a 20D groove for consistent spin n fuller shots while those of 54° and above have a far more aggressive 5D groove to maximise control. The "Nip-It" groove is placed near the leading edge to lend an additional element of control particularly when the shot is shorter. There is a Micro-Positive roughness milled into the face that has raised micro-ridges that run the length of the hitting area. Between each of these precise ridges is a micro-groove that further aids in positive contact between club face and ball giving additional spin by grabbing the ball cover.
Tour Validated Shape
The MD4 Wedges have slightly more offset than their predecessors in addition to this they feature a more compact shape, a straighter leading edge and a tighter leading edge radius. These new features did not come about by accident. Roger Cleveland brought his full knowledge and experience to bear and, when combined with tour player input, devised this new shape. Speaking of the new shape Roger had this to say ""Tour pros like only a subtle amount of leading-edge radius, in the Mack Daddy 4 we gave them enough to make a performance difference while still pleasing the eye".
Four Grind Options: C, S, W and New X Grind
Mack Daddy 4 wedges are available in four grind options, each with generous camber from heel to toe for smooth turf interaction and solid feel. Each grind is available in both Matte Black and Satin Chrome Finishes
C Grind
Increased relief, especially at the heel, making it easier to play shots with the face open. Ideal for medium-to-shallow attack angles and/or firm course conditions. 8 bounce.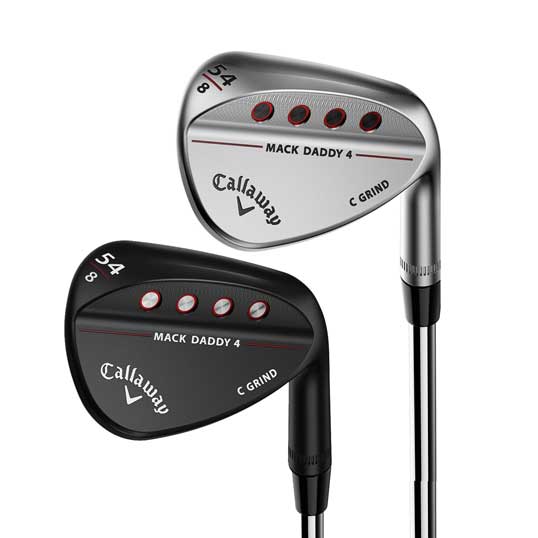 S Grind
Medium-width sole with slight chamfer at the back and moderate heel relief to keep the leading edge low through impact, promoting solid contact on open-faced shots. 10 bounce.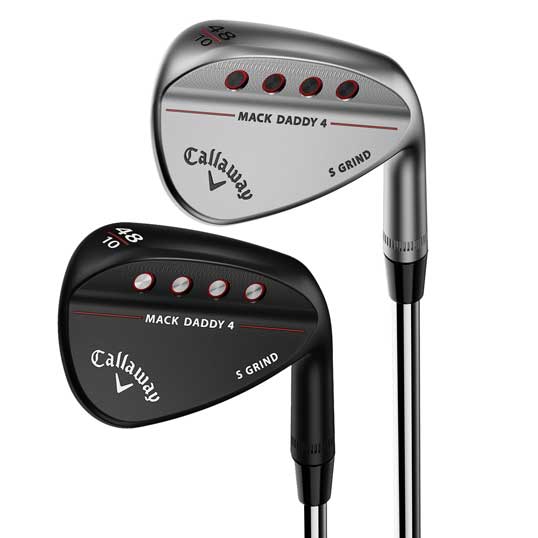 W Grind
Sole is wider at the center and toe and narrower at the heel, with moderate heel relief and generous front-to-back camber. That prevents digging without increasing bounce, and keeps the leading edge close to the turf at impact. Great for open-faced shots. More versatile than our previous W Grind. 12 bounce.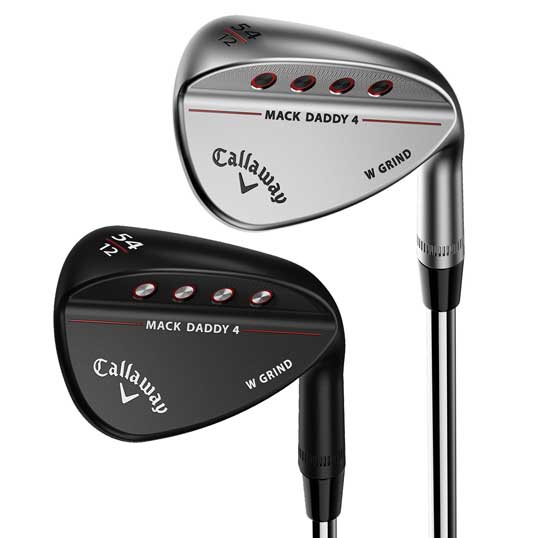 New X Grind
The newest grind features a narrow, high-bounce crescent sole, with the low point near the front. Excellent for moderate-to-steep attack angles and medium-tosoft course conditions. 12 bounce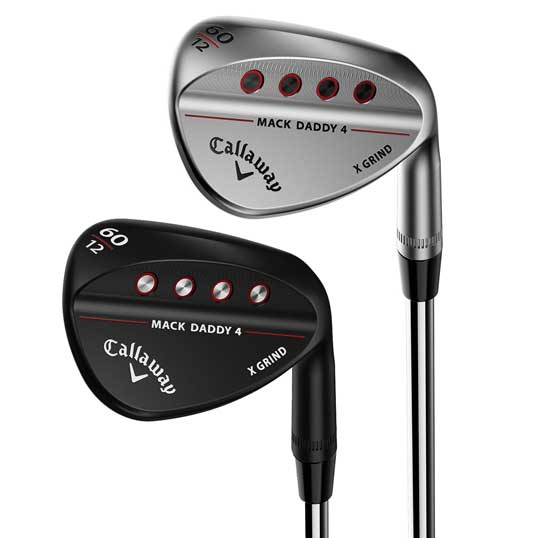 How Do Callaway Mack Daddy 4 Wedges Feel?
Simply put the new Mack Daddy 4 Wedges feel uniquely satisfying. As any golfer with a keen eye for detail knows the key contributors to the feel of a wedge are CG location, sole, head material, finish, shaft and grip. CG location is managed using four weight ports and milled aluminium medallions. This system allows the CG to move progressively up as the loft of the club increases so that no matter which wedge you play the familiar solid feeling is always present. Finally the club head is constructed from soft 8620 carbon steel which is available in two distinctive finishes. Add in the Dynamic Gold Tour Issue 115 shaft fitted with a Lamkin UTx grip and the reason for the unique feel of the MD4 wedges becomes clear.
When Will the New Mack Daddy 4 Wedges be Available?
JamGolf are working closely with Callaway to bring you the latest news and information about the new MD4 wedges. The best way to stay up to date is to sign up to our email list by entering your email address below.