Cobra RADSPEED Golf Clubs 2021
Cobra's 2021 Range of King RADSPEED Golf Clubs
The KING RADSPEED family of metals utilises RADIAL WEIGHTING Technology to deliver the perfect balance of ultra low spin, radical ball speed and extreme forgiveness. Your choice of two RAD colors provides the ultimate personalised looks and performance.
Cobra King RADSPEED Drivers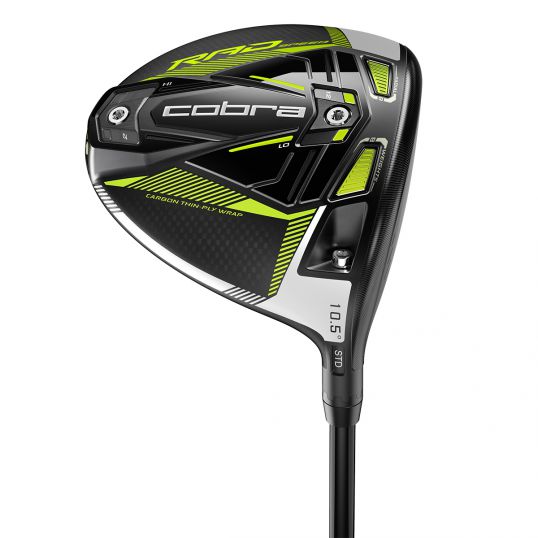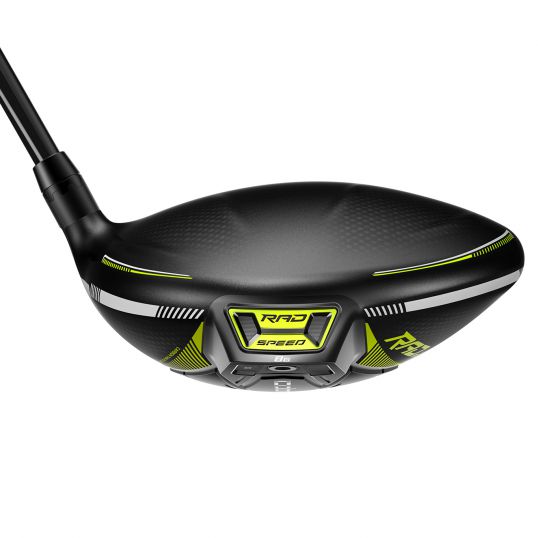 Cobra King RADSPEED Driver Features
The new RADSPEED driver is designed with a 460cc traditional shape, and forward-biased Radial Weighting to appeal to the better player seeking low spin, low launch and workability. The chassis features 28g positioned in the front, (16g of fixed weight; & 12g adjustable weight) and an additional 10g positioned in the back (8g fixed weight; 2g adjustable weight) to create the perfect balance of front and back weighting for speed and stability. By pushing the weight as far forward and as far back as possible, COBRA engineers were able to design a driver capable of providing the fastest ball speed with extreme forgiveness – an engineering feat that has not been achieved until now.
Using a lighter T-Bar Speed Chassis and a thinner Carbon Fiber Wrap Crown, engineers were able to save 13g (7g in the chassis/6g in the carbon) that they could reposition forward to lower the CG and produce more speed. Two adjustable weights in the front and back (12g & 2g) allow players to fine-tune their desired launch and spin performance. A final but very notable feature of the new RADSPEED driver is the CNC Milled Infinity Face, which requires about 25 minutes of milling for every single clubface produced. COBRA's proprietary CNC milling process is a significant advancement over the traditional hand polishing method and produces thickness and bulge and roll tolerances that are up to five times more precise. This process ensures consistent performance on every driver, which delivers thinner faces for maximum ball speed and perfect curvatures for forgiveness on off-center hits.
Cobra King RADSPEED Fairway Woods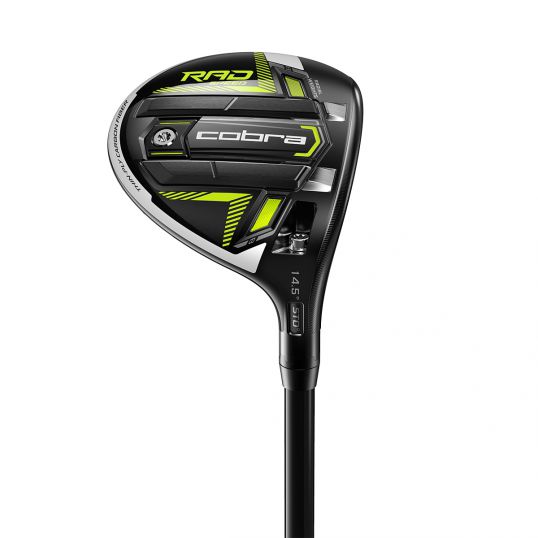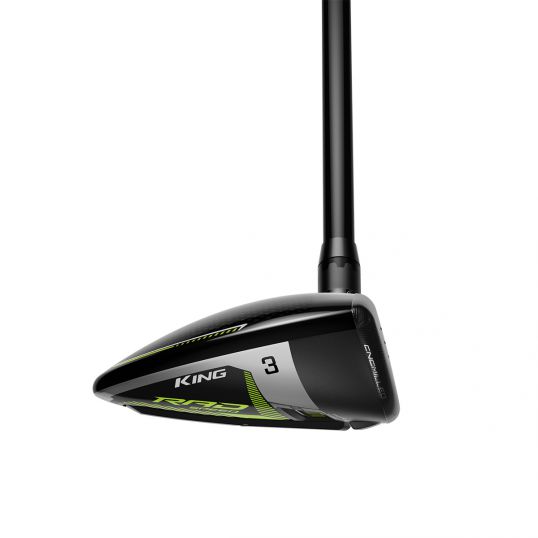 Cobra King RADSPEED Fairway Wood Features
The RADSPEED fairways feature the perfect balance of front and back weighting to deliver low spin, faster ball speed, and high launch. Hollow Baffler Rails create more speed and improve turf interaction for consistent contact. By utilising weight savings from a thinner Carbon Crown design, COBRA engineers have freed up more discretionary weight to position it forward and increase ball speed. Using strategic Radial Weighting , COBRA engineers were able to create three distinct performances. Each fairway features COBRA's signature Baffler Hollow Split Rails, which increase flexion on the leading edge by 70% to increase speed while still providing excellent turf interaction.
Traditional shape with a balance of front and back Radial Weighting (16g in the front & 7g in the back). Ultra-low spin, with high launch and forgiveness. A CNC Milled Infinity Face (up to 5 times more precise than hand-polished fairways). Two premium aftermarket shafts: Fujikura Motore X F3 (Stiff & Reg) and Project X Even Flow Riptide (Lite flex). Two colorways: Gloss Black and Turbo Yellow.
Cobra King RADSPEED Hybrid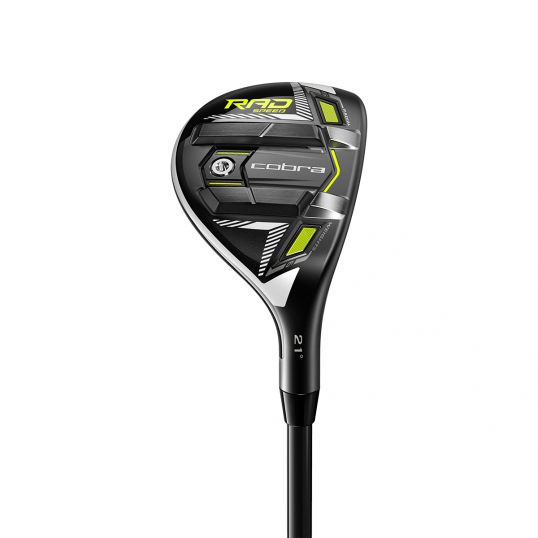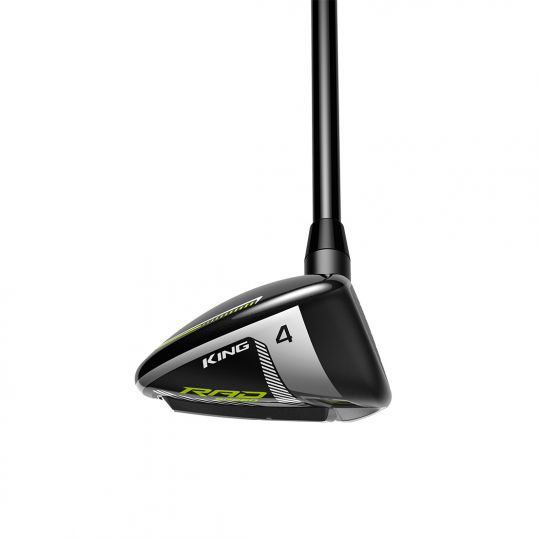 Cobra King RADSPEED Hybrid Features
The RADSPEED name is inspired by its key, innovative technology, Radial Weighting. RADPEED maximises performance for the full spectrum of players through optimised weighting and an array of advanced technologies. The design concept originated from a popular formula in engineering called Radius of Gyration, which is the distance from the club's center of gravity to each weight or technology location.
RADSPEED hybrids, which are available in both standard (Gloss Black/Turbo Yellow colorway), utilise COBRA's innovative Radial Weighting Technology with the emphasis on extreme front weighting for ultra-low spin, faster ball speed, and increased distance. A forged, high-strength steel face insert, and Hollow Split Rails combine to create a lower CG location, higher launch angles, more distance, and enhanced versatility from a variety of lies. The Baffler sole rails are a signature feature of COBRA's fairways and hybrids, and allow the club to glide effortlessly out of the fairway, tight lies, thick rough and even bunkers.
Cobra King RADSPEED Irons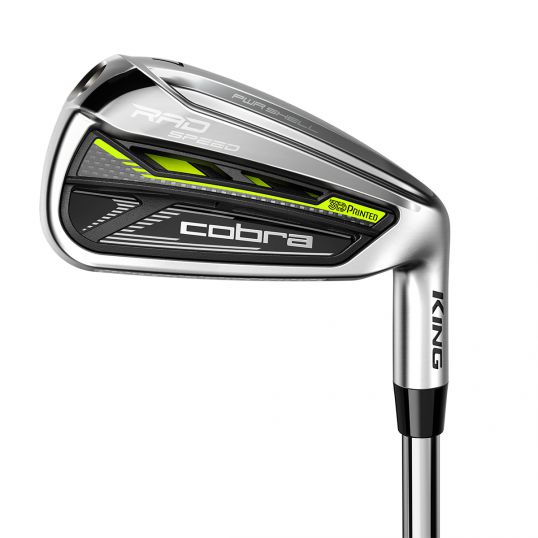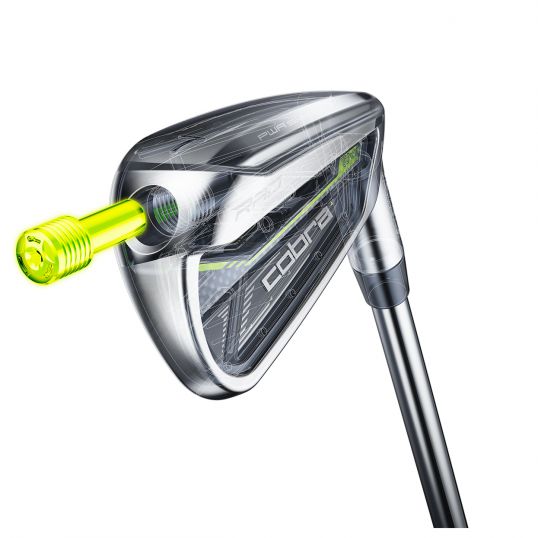 Cobra King RADSPEED Irons Features
With a name inspired by its key technology, Radial Weighting, the design of these irons is aimed at maximising performance through the strategic placement of weight relative to the Center of Gravity (CG) to optimise speed and forgiveness. COBRA engineers discovered that by positioning more mass low on the heel and toe (the two furthest points from the CG while remaining low in the head), they could lower the CG while dramatically improving the stability of the clubhead. 10g, in the form of a screw-in weight, is positioned in the toe and 3g of mass, is positioned in the heel to create the best combination of low CG, and high MOI for the fast ball speed and high launch.
The 10g screw is a nominal weight used by COBRA to guarantee perfect head weights for improved builds. During custom builds this weight may be adjusted +/- 6g utilising weights ranging from 4g to 16g in increments of 2g to dial in proper swing weights when customising length or shafts. This weighting system delivers an iron set that is truly custom built for the golfer. Radial Weighting is a critical component of the design that allows the RADSPEED irons to maintain high launch and maximum carry distance, despite having a stronger loft. In addition, the irons feature a unique Carbon Fiber Topline that saves 2g to lower the CG and improve launch and spin characteristics. An all new black carbon fiber cosmetic creates the appearance of a thinner topline for a sleeker and more compact look at address.
COBRA's patented PWRSHELL technology continues to offer increased speed and higher launch even on stronger lofted irons. The forged PWRSHELL Face insert in the RADSPEED iron is made of a high-strength 17-4 stainless steel, allowing for a thinner and more flexible face design that increases ball speed on and around the Sweet Spot. In addition to the above-mentioned technologies, the RADSPEED Variable Length Irons feature progressive head shapes (two-piece metalwood construction on 4-7i and one-piece construction on 8-SW), groove shapes (V groove for reduced spin in the long irons and U groove for added spin in the short irons), and hosel lengths (shorter in the long irons and taller in the wedges) to optimise distance, launch characteristics, and accuracy for each respective iron category – long irons, mid-irons and wedges.