PING G Le2 Ladies Golf Clubs
The PING brand has long been synonymous with innovation and quality and the new G Le 2 ladies golf clubs perfectly reflect the company's dedication to excellence. Not only have the engineers at PING made every conceivable and measurable performance improvement possible they have expanded the fitting options available. The level of customisation available in the new G Le 2 range makes it possible to perfectly tune a full set of clubs to every woman's swing giving them a bag full of options that complement their play style.
PING G Le 2 Driver - Lighter, Faster, More Forgiving
The new G Le 2 driver is built upon the success of the previous generation and takes performance a few yards further. The titanium head features imp[roved aerodynamics, a forged T9S+ face and heel biased weighting. All these elements combine to increase MOI, club speed and energy transfer from club to ball. Add in Trajectory Tuning 2.0 and you have a driver that is lighter, faster and more forgiving.
PING G Le 2 Fairway Woods - Higher Launch with Greater Adjustability
The fairway woods in the new PING G Le 2 range have been imbued with greater speed and distance. Overall the club heads are lighter and the faces are set at a shallower angle. The fairway's MOI has been greatly increased and combined with an even more adjustable hosel. The whole package has a set of internal weights to add distance that have been set in such a way as to keep every swing and every shot straighter.
PING G Le 2 Irons - Lighter, Longer, Straighter
COR-Eye technology is heavily featured in the G Le 2 irons to keep the club weight as low as possible and promote forgiveness. A deeper top rail undercut allows the face to flex and return maximum energy to the ball. Despite the overall reduction in weight a tungsten weight in the toe helps retain momentum and power through the swing. Finally, the sound and feel of these new irons is managed with a co-moulded cavity badge.

PING G Le 2 Hybrids - Faster and More Customisable
At the face of the new G Le 2 hybrids is a thinner, faster CarTech custom 455 face. This incredible material keeps the overall club weight low allowing the CoG to be placed lower and deeper. For those ladies that prefer the fitting options of a hybrid in place of an iron there is a 34 degree 7 hybrid.
PING G Le 2 Putters - Forgiveness and Feel
Perhaps the greatest aspect of the new PING G Le2 set of clubs is the choice of putting options. Three distinct models - Anser, Shea and Echo give every golfer the opportunity to choose the precise set up they prefer. Each putter features a dual-durometer face insert that improves the sensitivity and feel of the interaction between club face and ball.
"To achieve one of our performance goals of improving the feel of the club throughout the entire swing, we focused on making the clubs lighter overall. We integrated our extensive knowledge of materials and manufacturing processes with our proven design technologies to deliver measurable improvements throughout the set. At the same time, we wanted to present the new clubs in a visually appealing and confidence-inspiring way." —stacey Pauwels, PING Executive Vice President
G Le2 Driver
Multi-material construction: Cast Ti 8-1-1 body, forged T9S+ face, lightweight aluminum/thermoplastic adjustable hosel
Loft option: 11.5° (adjustable +- 1.5°)
Head weight: 190g
Head volume: 460 cc
Std. length: 44 3/4"
Std. lie angle: 58.5°
Std. Swingweight: C2
Stock grip: Golf Pride Tour Velvet Garnet 360 in three sizes (Blue -1/16", Red -1/32", Aqua -1/64")
Shaft options: PING ULT240D (Lite and Ultra Lite flexes)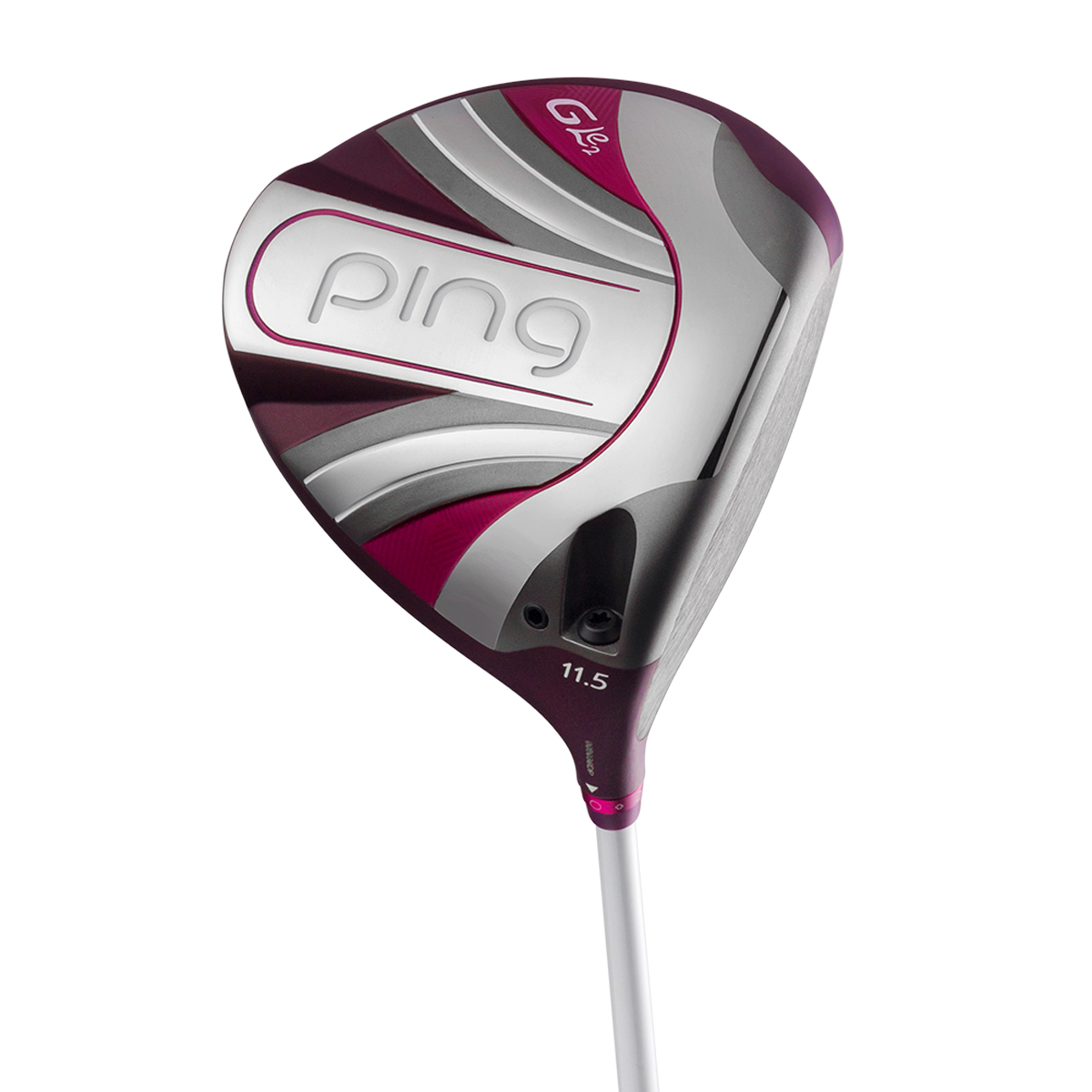 G Le2 Fairway Woods
Multi-material construction: 17-4 stainless steel body, C300 Maraging Steel face, lightweight aluminum/thermoplastic adjustable hosel
Lofts (adjustable up to +-1.5°): 3W (19°), 5W (22°), 7W (26°), 9W (30°)
Std. lengths: 3W (42 1/2"), 5W (42"), 7W (41 1/2"), 9W (41")
Std. Swingweight: C1
Stock grip: Golf Pride Tour Velvet Garnet 360 in three sizes (Blue -1/16", Red -1/32", Aqua -1/64")
Shaft options: PING ULT240F (Lite and Ultra Lite flexes)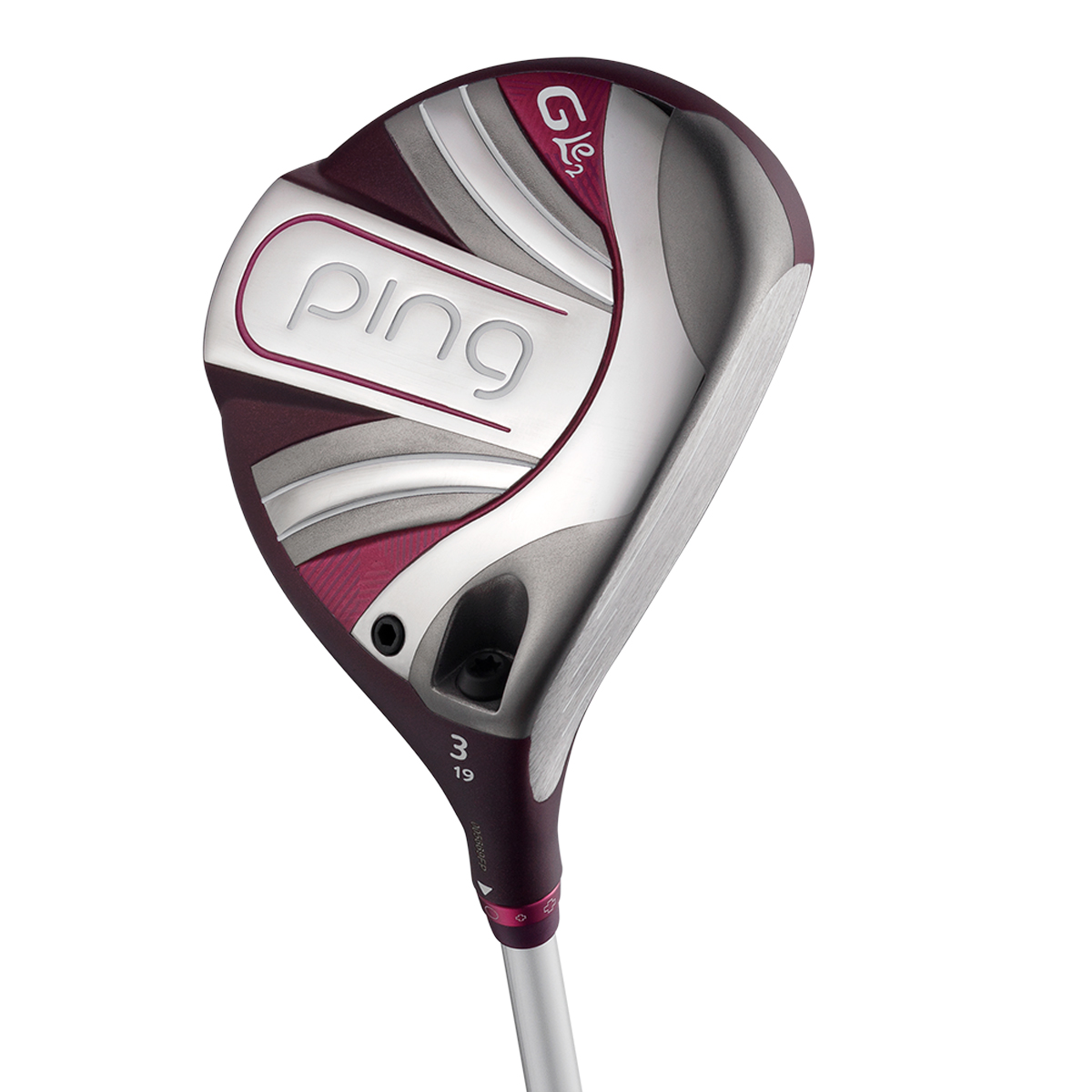 G Le2 Irons
Multi-material construction: 17-4 stainless steel head, tungsten toe weight, aluminum/thermoplastic composite badge, HydroPearl 2.0 finish
Available 6-9, PW, UW, SW, in 10 color codes (lie angle). Black color code is standard.
Std. length/loft: 6i (37.13"/27°), 7i (36.5"/30.5°), 8i (36"/35°), 9i (35.5"/40°), PW (35"/45°), UW (35"/52°), SW (34.5"/58°)
Std. Swingweight: 6i (C1), 7i (C2), 8i (C2), 9i (C2.5), PW (C4), UW (C5), SW (C6)
Stock grip: Golf Pride Tour Velvet Garnet 360 in three sizes (Blue -1/16", Red -1/32", Aqua -1/64")
Shaft options: PING ULT240i (Lite and Ultra Lite flexes)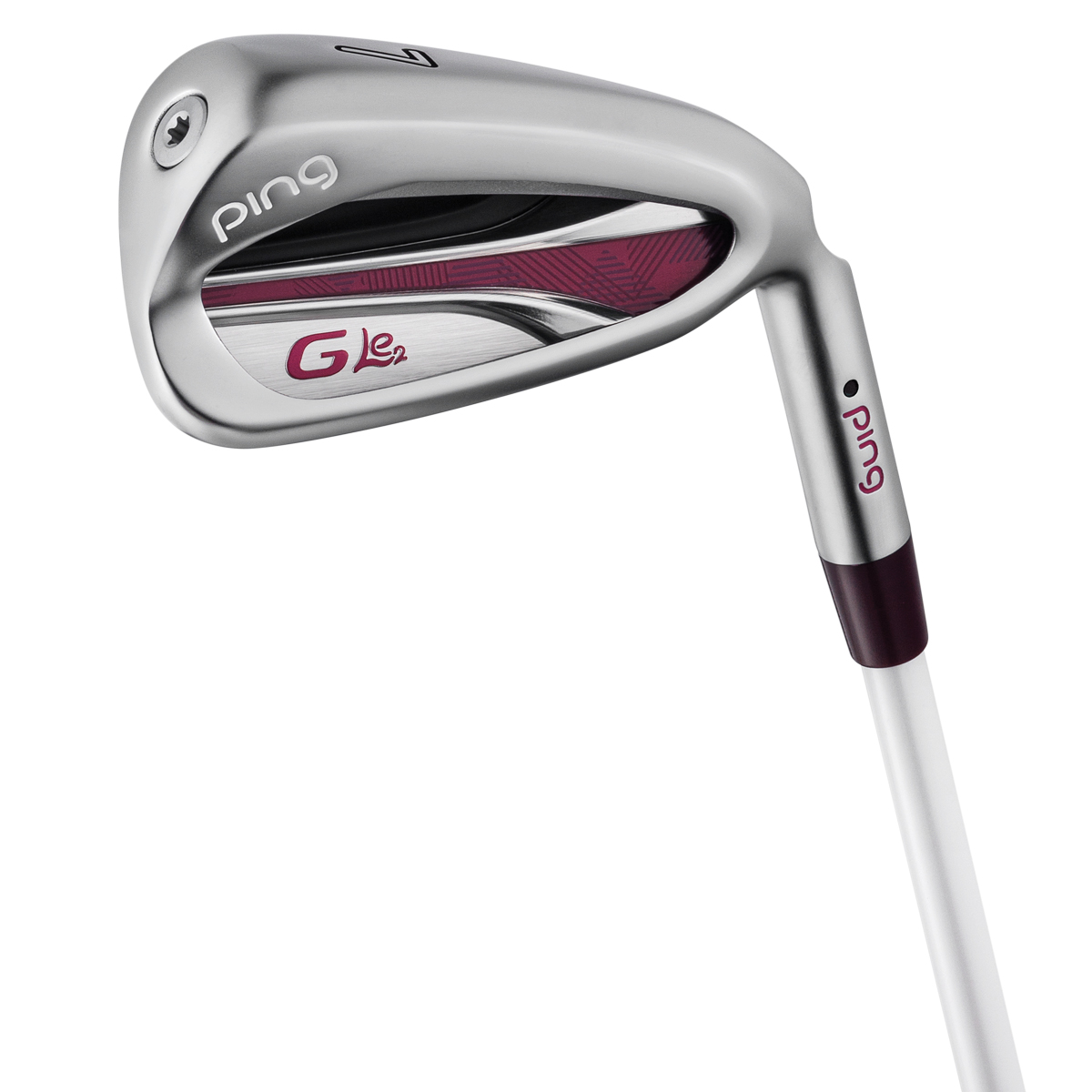 G Le2 Hybrids
Multi-material construction: 17-4 stainless steel head, CarTech Custom 455 Steel face
Lofts: 4H (22°), 5H (26°), 6H (30°), 7H (34°)
Std. lengths: 4H (39"), 5H (38 1/2"), 6H (38"), 7H (37 ½")
Std. Swingweight: C0
Stock grip: Golf Pride Tour Velvet Garnet 360 in three sizes (Blue -1/16", Red -1/32", Aqua -1/64")
Shaft options: PING ULT240H (Lite and Ultra Lite flexes)
G Le2 Putters
Anser
Putter Type: Blade
Materials: 17-4 stainless steel body, Dual-durometer PEBAX insert
Finish: Champagne nickel plating
Adjustable-Length Shaft: 31" to 35" range (std: 33")
Head Weight: 345g
Stroke Type: Slight Arc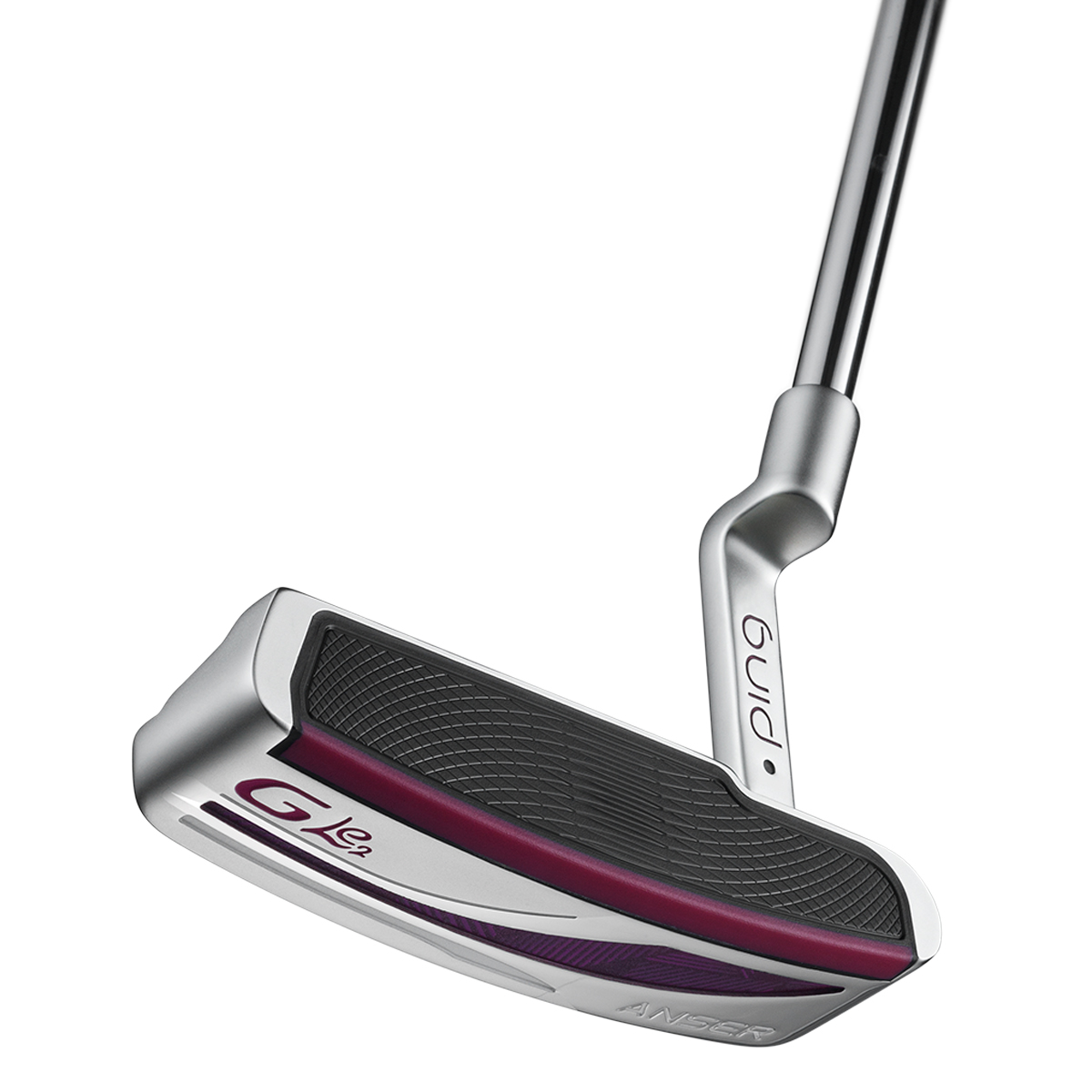 Shea
Putter Type: Mid Mallet
Materials: 17-4 stainless steel body, Dual-durometer PEBAX insert
Finish: Champagne nickel plating
Adjustable-Length Shaft: 31" to 35" range (std: 33")
Head Weight: 350g
Stroke Type: Strong Arc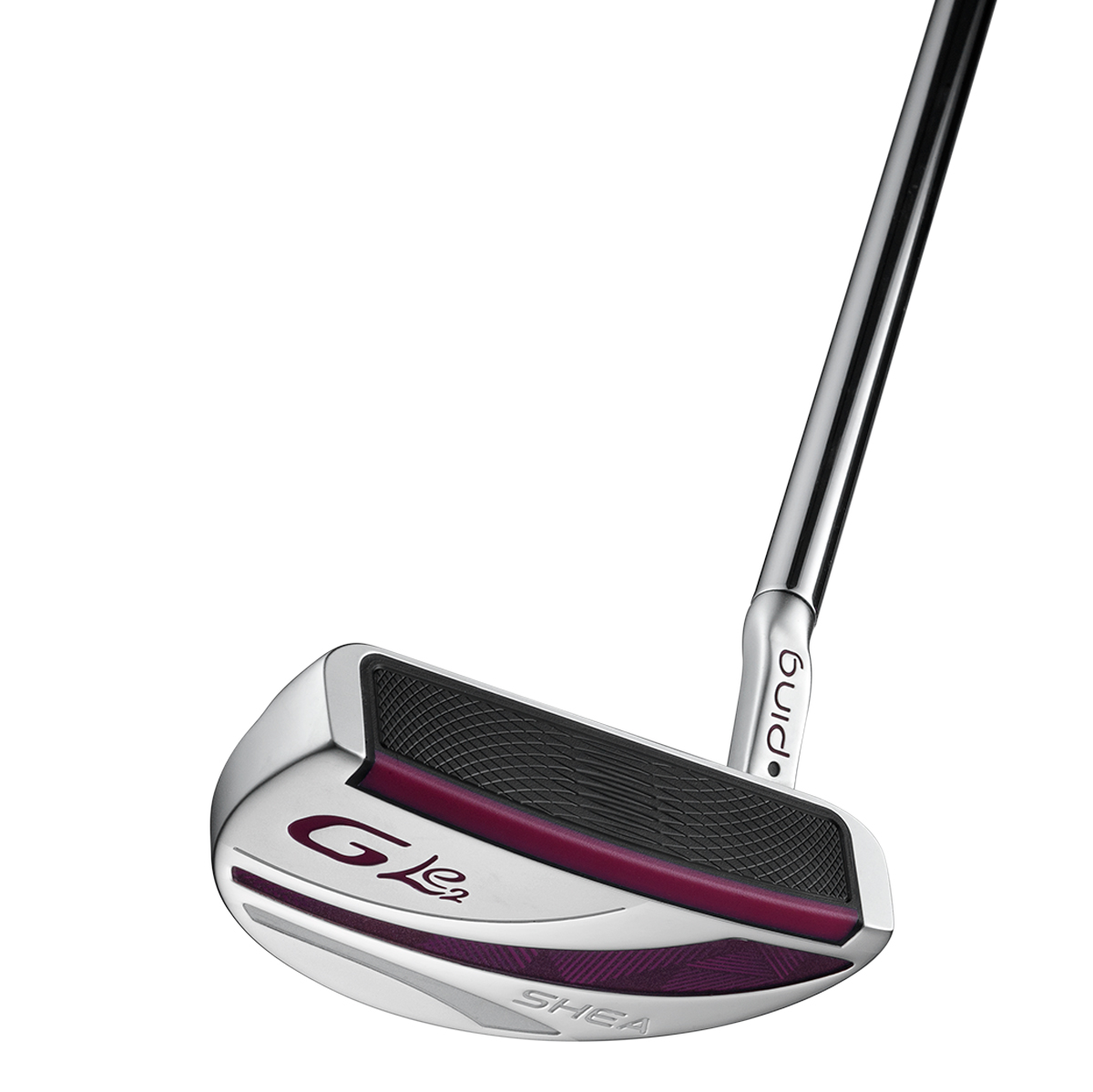 Echo
Putter Type: Mallet
Materials:Machined 6061 aluminum body, stainless steel soleplate, Dual-durometer PEBAX insert
Finish: Magenta-color anodized body, champagne nickel soleplate
Adjustable-Length Shaft: 31" to 35" range (std: 33")
Head Weight: 360g
Stroke Type: Slight arc or Straight