PING Glide 3.0 Wedges

Reengineered from Grip to Grind
PING's glide wedges have been proven to be outstanding on Tour and by amateur golfers of all skill levels but the engineers and designers at PING knew there was more to do. The new PING Glide 3.0 wedges have been entirely redesigned and reengineered from grip to grind to produce the most playable wedge the company has ever put forth. These updated wedges are imbued with all of the pedigree and history of success that can be found in every PING golf club. Golfers of all skill levels will find a Glide 3.0 wedge that works for their game and PING's dedication to offering full customisation means no matter what you prefer, there is a wedge here for you.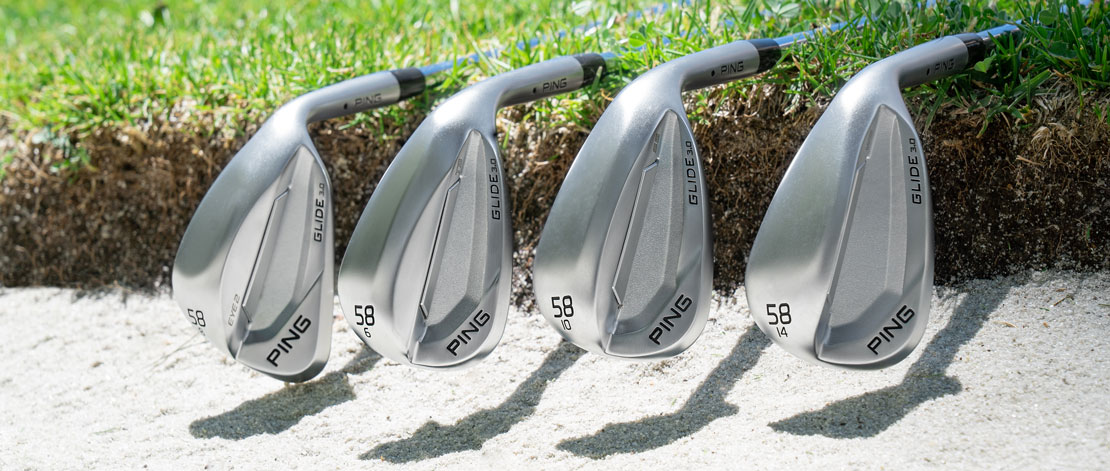 Shot Saving Accuracy
The new Glide 3.0 wedges are all about shot saving performance no matter which grind or loft option you choose. Super soft 431 stainless steel is easy to shape into the distinctive, rounded head profile and, when combined with the elastomer insert, gives the Glide 3.0 its smooth feel and sound. At address the increased offset and tapered hosel give the club a clean look that inspires confidence. The look is maintained despite use thanks to the Hydropearl Chrome 2.0 finish that repels moisture.
Precision Milled Grooves and Grind Options
Not satisfied with how other manufacturers cut grooves into golf clubs PING developed their own patented wheel cutting system. Wheel-cut grooves feature more severe edge radii that interact more forcibly with the ball giving greater spin and trajectory control.Perhaps more importantly the precise degree and edge radius at each loft is varied to produce different launch characteristics.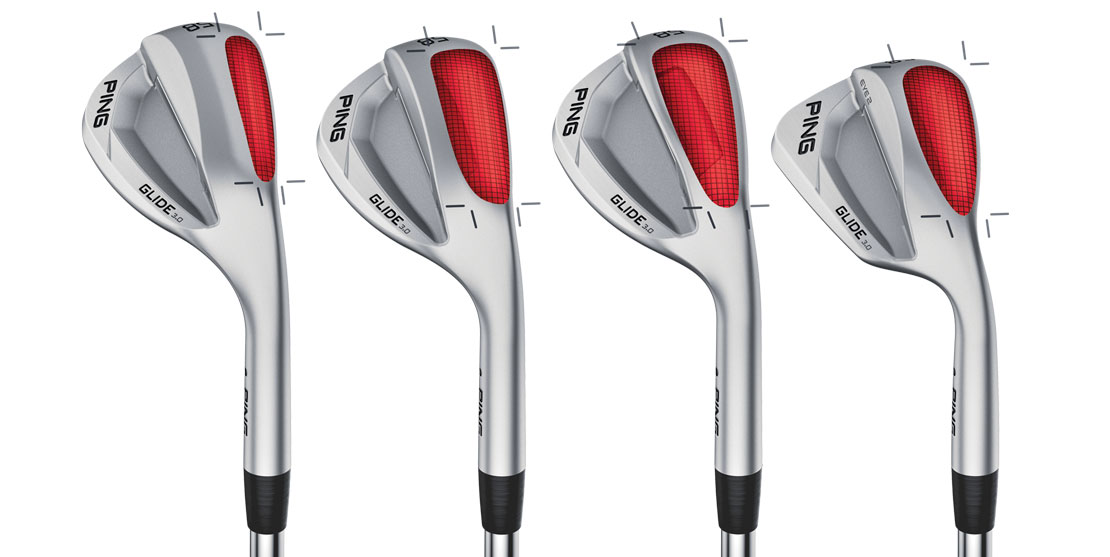 The four sole grind options are Standard Sole (SS), Wide Sole (WS), Eye2 and Thin Sole (TS). The SS grind is a mid bounce sole that is intended for golfers with a moderate angle of attack. WS grind wedges have a greater degree of forgiveness and performs well for steep attack angles in soft turf. Eye2 grind matches that of the original Eye2 SW sole and is the ultimate bunker buster. Finally, the TS grind wedges are most at home in firm conditions and is ideal for precision shot making.
New Grip and Shaft Options for the Glide 3.0
All the design and engineering advancements made but the PING Glide 3.0 would be for nothing if it were paired with the wrong grip and shaft. These two essential pieces of the puzzle must be tested, re-tested and fully thought pout in order to get the most from the overall club. The new PING Glide 3.0 has been through a thorough process of development to find the ideal stock grip and shaft options.
New DYLAWEDGE Grip and Lighter Shaft
The new DYLAWEDGE grip is lighter than the original by five grams despite being ¾" longer. The taper has been reduced to make it easy for golfers to down-grip the wedge. Making the additional grip position available give the Glide 3.0 a higher degree of versatility and control when finessing shots around the green for varied lies. The new PING Z-Z115 shaft from Nippon removes even more weight from the total package. The balance point of this lightweight shaft has been pushed towards the tip to give even more feel and control of the club head.