Yonex EZONE Forged Irons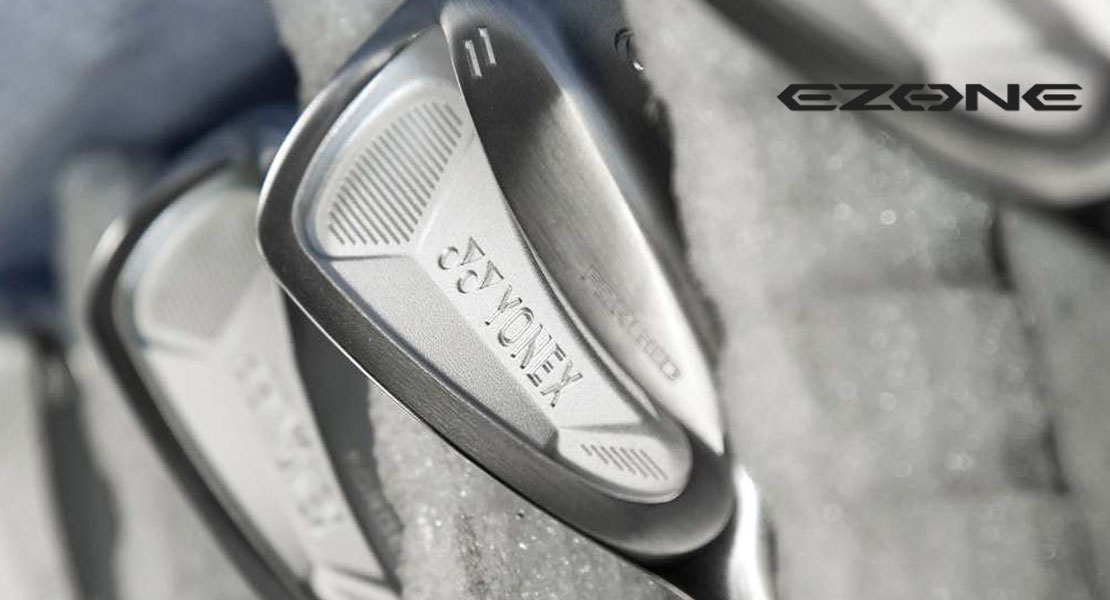 The Yonex EZONE Forged Irons - Online Only at JamGolf
JamGolf and Yonex have been working closely together for some time now and we are absolutely on board with the brand's vision of producing clubs for every player. The new EZONE forged irons encapsulate the ethos of inclusivity perfectly and really do provide an iron for every player no matter your preference or skill level. JamGolf are proud to be the only place you can currently buy these outstanding irons from.
EZONE forged irons have been developed to provide a game improving iron for anyone from a mid-handicapper to a pro. Feel is at the heart of these new irons and Yonex have deployed some truly space age technology to make the steel in the clubhead 20% softer than conventional steel. The Vacuum Heat Treatment process really is used on space faring craft! Inside the super-soft steel is a unique graphite material called C-BRID. The spacial C-BRID core dampens vibration and optimises the center of gravity of the club improving both balance and feel.
Which of the EZONE Forged Irons is Right for You?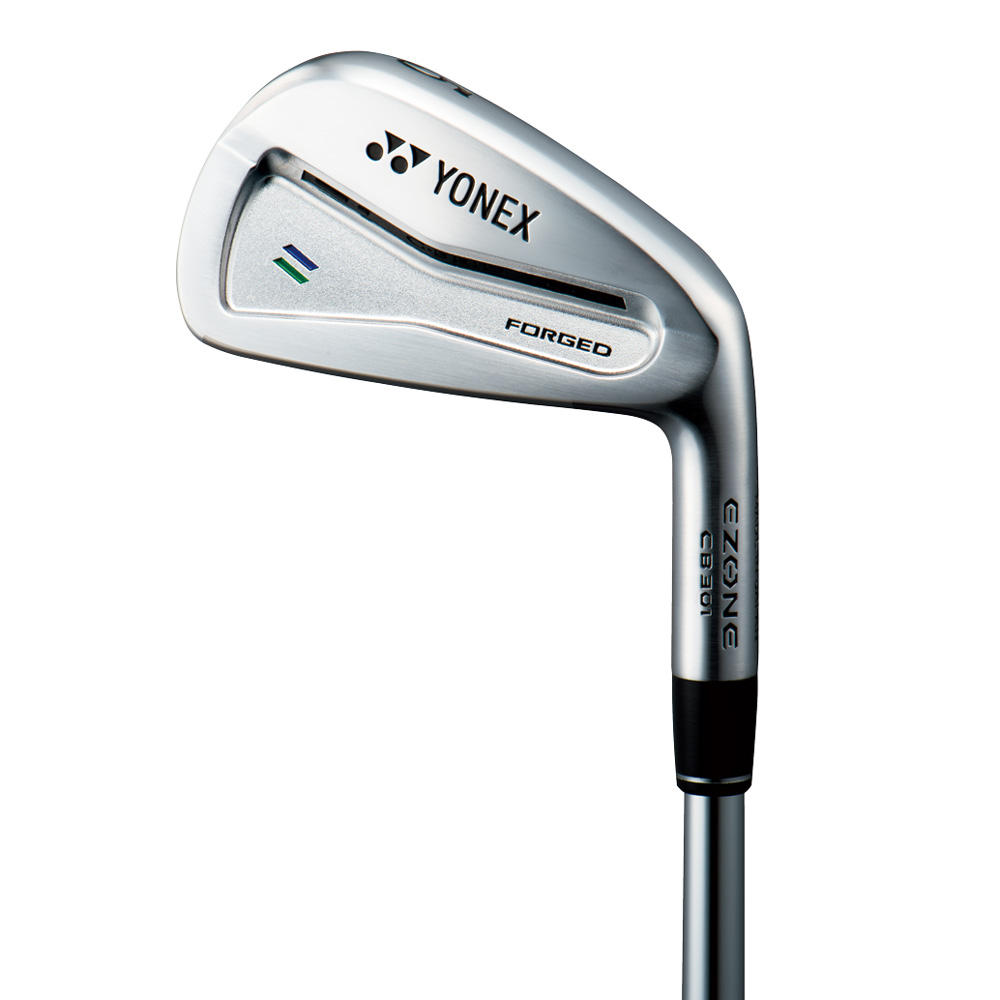 MB 501 Forged Iron
This is the iron for the more advanced golfers that prefers workability and an ultra-soft feel.The C-BRID core and 3D round sole give the MB 501 incredible balance, sound and turf interaction.
CB 301 Forged Iron
The iron for the low handicapper looking for tight control. The beauty of the CB 301 is that it also gives the workability of a cavity back with an added element of stability and control.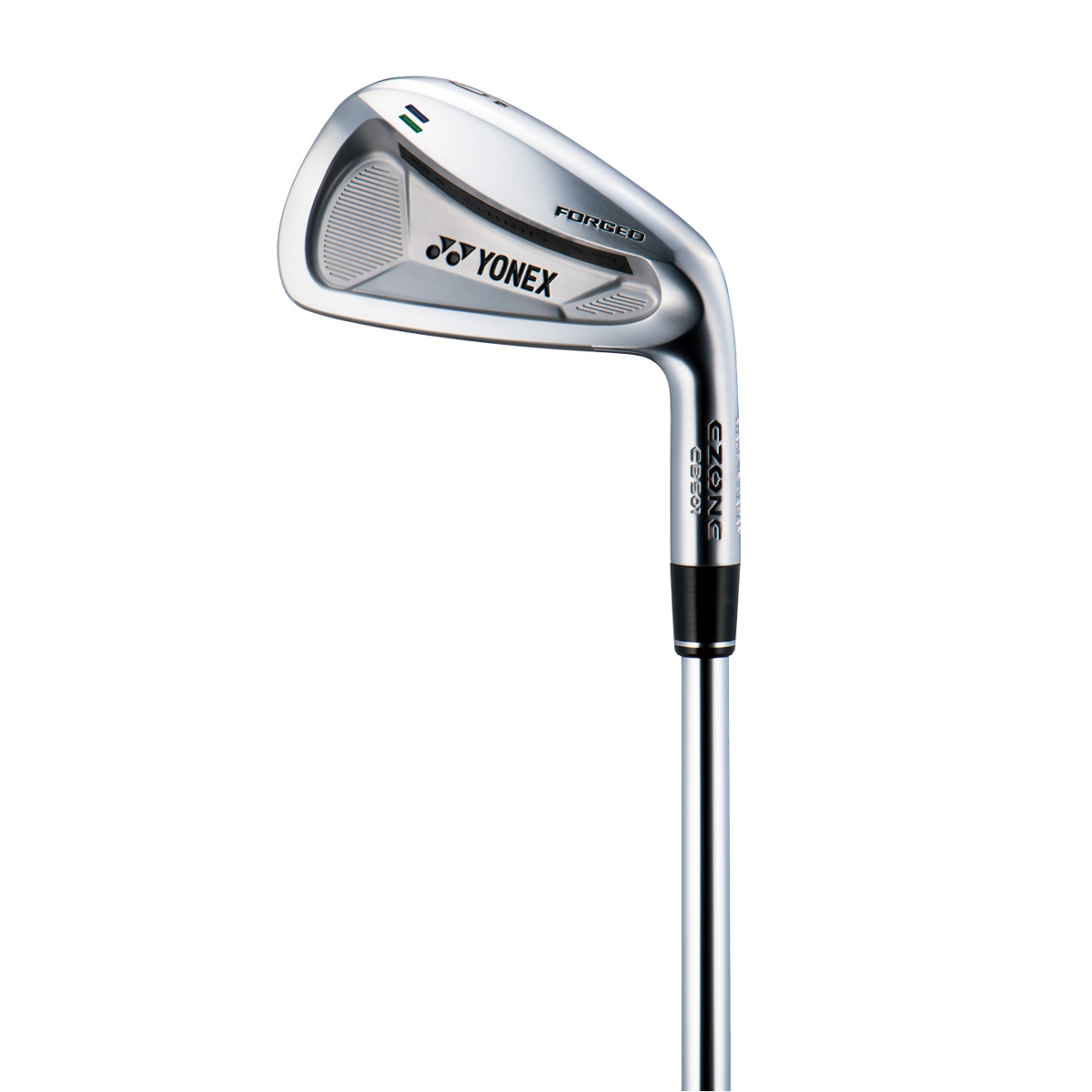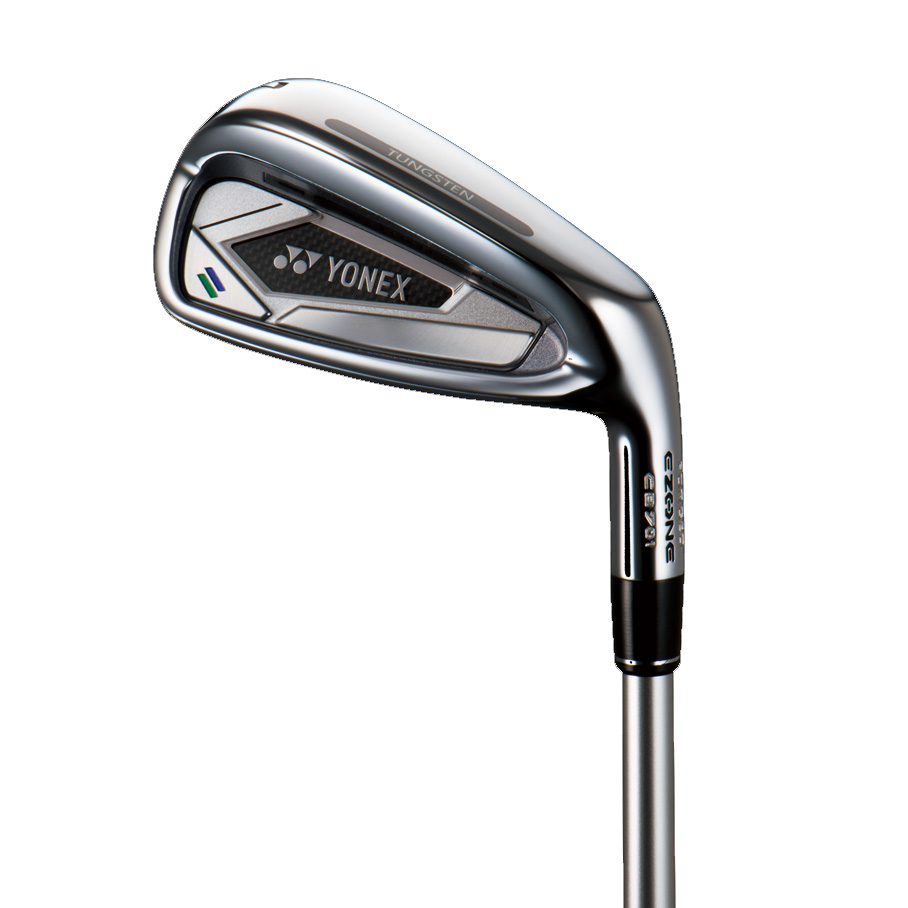 CB 501 Forged Iron
If you're a low to mid handicap golfer looking for a high degree of feel with no compromise on playability the CB 501 is the right choice for a soft but balanced, playable iron.
CB 701 Forged Iron
For the mid handicap golfers who prefer the maximum amount of forgiveness balanced with total distance and feel. The Tungsten infused C-BRID keeps the CoG low and forgiving.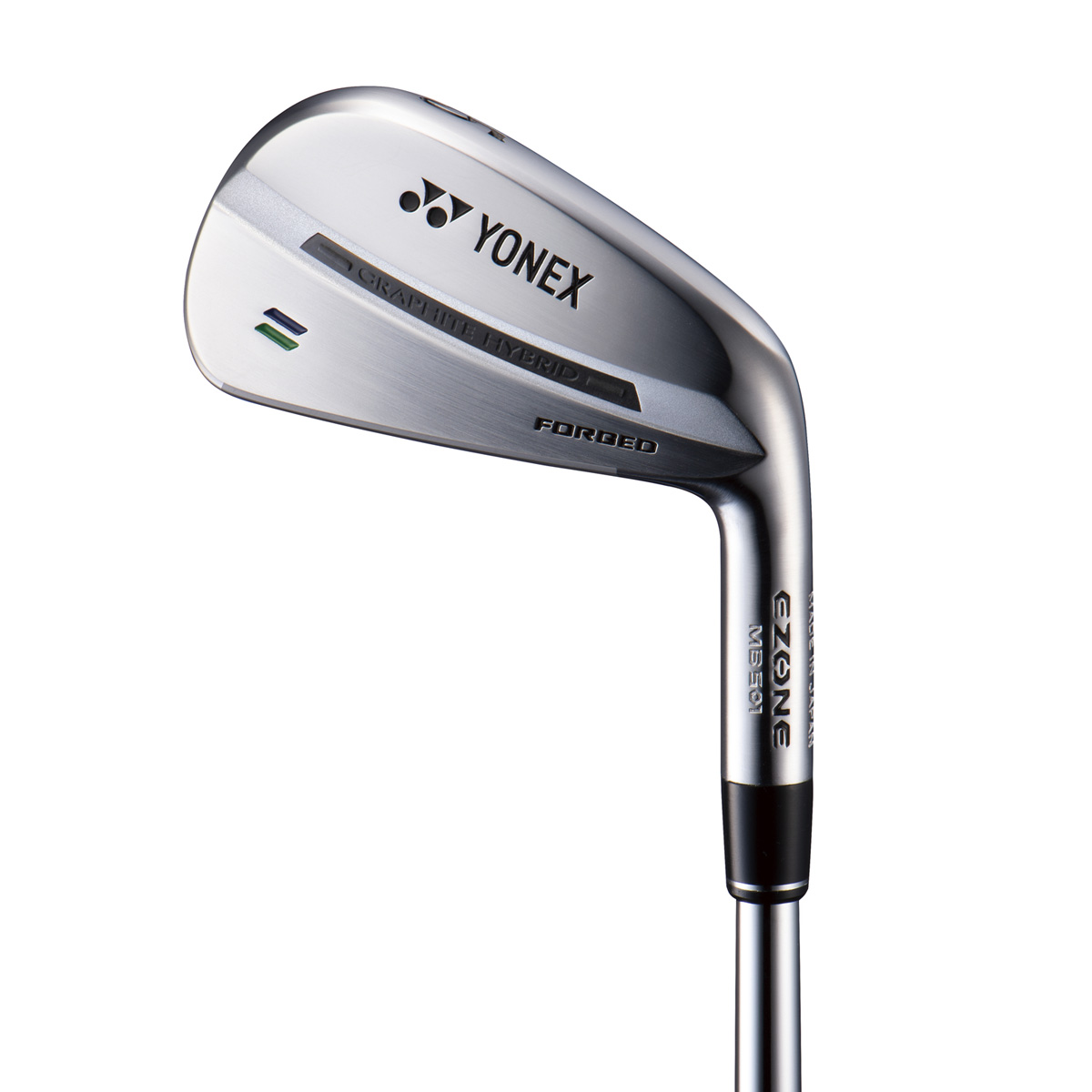 Yonex EZONE Forged Irons Specs
MB 501 - N.S. Pro Tour 125
| Number | 3 | 4 | 5 | 6 | 7 | 8 | 9 | PW |
| --- | --- | --- | --- | --- | --- | --- | --- | --- |
| Loft (deg) | 21 | 24 | 27 | 31 | 35 | 39 | 43 | 47 |
| Lie (deg) | 60 | 60.5 | 61 | 61.5 | 62 | 62.5 | 63 | 63.5 |
| Bounce | 2 | 3 | 4 | 5 | 6 | 7 | 8 | 9 |
| Face Progression | 5.2 | 5.2 | 5.2 | 5.2 | 5.2 | 5.2 | 5.2 | 5.2 |
| Shaft Length | 39 | 38.5 | 38 | 37.5 | 37 | 36.6 | 36 | 35.5 |
| Swing Weight | D2 | D2 | D2 | D2 | D2 | D2 | D2 | D2 |
CB 301 N.S Pro Tour 125 (High)
| Number | 3 | 4 | 5 | 6 | 7 | 8 | 9 | PW |
| --- | --- | --- | --- | --- | --- | --- | --- | --- |
| Loft (deg) | 20 | 23 | 26 | 30 | 34 | 38 | 42 | 46 |
| Lie (deg) | 60 | 60.5 | 61 | 61.5 | 62 | 62.5 | 63 | 63.5 |
| Bounce | 2 | 3 | 4 | 5 | 6 | 7 | 8 | 9 |
| Face Progression | 5.2 | 5.2 | 5.4 | 5.4 | 5.4 | 5.4 | 5.4 | 5.4 |
| Shaft Length | 39 | 38.5 | 38 | 37.5 | 37 | 36.5 | 36 | 35.5 |
| Swing Weight | D2 | D2 | D2 | D2 | D2 | D2 | D2 | D2 |
CB 501 N.S. Pro Tour 105
| Number | 3 | 4 | 5 | 6 | 7 | 8 | 9 | PW |
| --- | --- | --- | --- | --- | --- | --- | --- | --- |
| Loft (deg) | 20 | 22 | 25 | 28 | 32 | 36 | 41 | 46 |
| Lie (deg) | 59.5 | 60 | 60.5 | 61 | 61.5 | 62 | 62.5 | 63 |
| Bounce | 1 | 2 | 3 | 4 | 5 | 6 | 7 | 8 |
| Face Progression | 4 | 4 | 4.5 | 4.5 | 4.5 | 5 | 5.5 | 5.5 |
| Shaft Length | 39 | 38.5 | 38 | 37.5 | 37 | 36.5 | 36 | 35.5 |
| Swing Weight | C1 | C1 | C1 | C1 | C1 | C1 | C1 | C1 |
CB 701 - NST 400
| Number | 5 | 6 | 7 | 8 | 9 | PW | AW | AS | SW |
| --- | --- | --- | --- | --- | --- | --- | --- | --- | --- |
| Loft (deg) | 21 | 23 | 26 | 29 | 33 | 38 | 43 | 49 | 56 |
| Lie (deg) | 60.5 | 61 | 61.5 | 62 | 62.5 | 63 | 63.5 | 63.5 | 64 |
| Bounce | 1 | 1 | 2 | 3 | 4 | 5 | 6 | 8 | 12 |
| Face Progression | 2.5 | 2.5 | 2.5 | 2.5 | 3 | 3 | 3.5 | 4 | 4.5 |
| Shaft Length | 39 | 38.5 | 38 | 37.5 | 37 | 36.5 | 36 | 35.75 | 35.5 |
| Swing Weight | C9 | C9 | C9 | C9 | C9 | C9 | C9 | D0 | D1 |
Yonex EZONE Forged Iron Shaft Options
N.S. Pro Modus Tour 125

| Flex | S |
| --- | --- |
| Shaft Weight | 128.5 |
| Torque (deg) | 1.5 |
N.S. Pro Modus Tour 125 (High)

| Flex | S |
| --- | --- |
| Shaft Weight | 128.5 |
| Torque (deg) | 1.5 |
N.S. Pro Modus Tour 105

| Flex | S |
| --- | --- |
| Shaft Weight | 106.5 |
| Torque (deg) | 1.7 |
NST 400: Graphite

| Flex | R |
| --- | --- |
| Shaft Weight | 46 |
| Torque (deg) | 3.9 |