Trade In Golf Clubs
At JamGolf you can part ex your golf clubs when you buy a new set and use the credit we give you on future purchases
The best bit is it doesn't matter how old your clubs are, what brand they are or how much they cost you to buy originally. We'll consider any set of clubs and the amount of credit you receive will reflect their age and condition. Just contact us at services@jamgolf.com with the details of your golf clubs for a quick easy quote from our golf shops professionals.
Get Even More Back When You Trade in Your Old Driver for a New M5 or M6
For a limited time JamGolf are offering an even sweeter deal when you choose to trade. If you are fed up with your current driver and it's looking a bit tired, bashed about and isn't getting you the yards you need it's time to trade. From the 1st June 2019 until 15th July 2019 you can trade your old driver in for extra rewards when you buy a TaylorMade M5 or M6 driver to replace it..
Not only will you get the value of your old driver refunded In Cash (not store credit) you'll get an additional £50 along with it. Sound Good? Well, there's more! We understand that trading in your old driver can be a bit of a hassle. You have to have an account, write out an email that includes all the details and pictures we need and arrange for and arrange a courier to get them to JamGolf.
To save you time and effort along with the refund of the value of your driver and the extra £50 we'll even organise and pay for the courier to come and pick up your driver! What could be easier? All you need to do is supply us with the details and you could be walking away with one of the fastest drivers on the market for very little cost!
See below for more details on how to trade in your clubs with JamGolf.
Include the Following Details about Your Part Ex Golf Clubs
The email address your account is registered with
(If you are not yet registered Click Here)
Details of the clubs/goods you plan to buy
Photos of your trade in clubs
Brand of clubs
Which model they are
Club lofts
Number of clubs being part exchanged
Are they right or left handed?
Are there headcovers included?
The make, model and flex of the shafts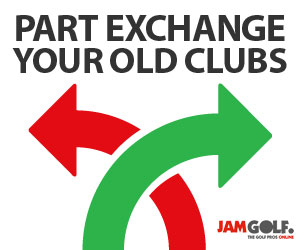 To make life easier here is a simple guide to evaluation of golf club part exchange
Try to match each of your clubs to a condition below:
Five Star - This is similar to an ex-display or ex-demo club that has very little use or been hit fewer than five times
Four Star - A four star club is in excellent condition with some signs of use such as cosmetic blemishes but little else
Three Star - A club in very good used condition. The face and sole may show signs of wear and the club as a whole no longer looks "new"
Two Star - This is a club that is well used but in good condition. There will be ball wear, some scratches and light dents but plenty of life left
One Star - This is in fair condition though there may be sky marks, heavy scratching, paint chips, shaft burn, iron/wedge face browning or dents
Send Your Part Ex Golf Clubs
Once we've seen all the information on your clubs we'll give you a price and, if you are happy to proceed the next bit is simple. Pack your clubs up as securely as you can in order to prevent any transportation damage and send them to our UK warehouse (address provided on agreement). Alternatively for £15 we can collect your trade in golf clubs.
We'll Credit Your Account
When we have them in the shop we'll give them a once over to verify their condition and ensure we gave you a fair valuation (you may have underestimated how good they are). On the same day as the inspection we'll add the credit to your account and email to let you know. All that is left to do is work out what to spend your credit on!