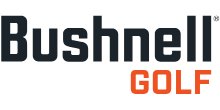 Bushnell Golf Rangefinders
The #1 Rangefinder in Golf - Trusted by 99.3% of the pros. Trust your Bushnell for precision distance that makes all the difference, and add an edge to your game.
Bushnell has been the industry leader in high-performance sports optics for more than 65 years. Their laser rangefinders use an invisible, eye-safe Class 1 Laser beam which is "bounced" off distant objects with the press of a button. The rangefinder's high-speed digital clock measures the time it took for a laser beam to reach a target and return, the rangefinder then instantly calculates the distance within +/- 1 yard and shows the range in either yards or metres on a through-the-lens LCD Display. At JamGolf, we are an Authorised Online Dealer of Bushnell and are proud to sell their top quality products. With a constant emphasis on product innovation, Bushnell Golf developed the first combo laser/GPS device. It is this dedication that has made Bushnell Golf the #1 Rangefinder in Golf for over a decade and is the rangefinder used by more professional tour pros and caddies than any other. Bushnell products are currently used by tour professional Rickie Fowler, a genuine sensation and one of the most dynamic young players on the PGA Tour.