Buy new then we'll buy your old golf clubs with credit on your account for use against further purchases on JamGolf.
We will consider any golf clubs no matter what their age. Just contact us at services@jamgolf.com with the details of your golf clubs for a quick easy quote from our golf shops professionals.
Please include the following:
The email you have registered with. (Click here to register)
Details of the clubs or goods you are planning to buy.
A photo of the clubs

Brand of clubs
Model
Loft
Right or left handed
Number of clubs
Headcover(s) included?

Shaft - Make, model and flex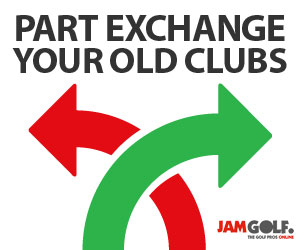 Please give us a simple condition guide.
Try to match the condition of the clubs with one of the descriptions below. These are the standard description we use on JamGolf.
Five star - Ex-display or ex-demo with minimal usage (hit fewer than 5 times).
Four star - Excelent, some visible signs of limited use, but is in fantastic shape and exceptionally well maintained. Close up, you may see some minor cosmetic blemishes.
Three star - Used, very good. Face and sole may show normal wear. Does not retain any of the "new" look but is in better than average condition.
Two star - Used good. Ball wear, scratches or light dents may be found but these clubs still have plenty of play left in them.
One star - Fair, possible sky marks, heavy scratching, paint chipping, shaft burn, iron/wedge face browning or dents.
We'll let you have a price, and on agreement all you have to do is pack up the clubs securely and send them to our UK warehouse. Alternatively, for a fee of £15 we can collect them from you.

We'll have a quick check of your clubs to check that they match your description and that our valuation is fair. On the same day we'll credit your account and email you to say we've done so.