TaylorMade TP5 & TP5x 4 for 3 Dozen Personalised Golf Balls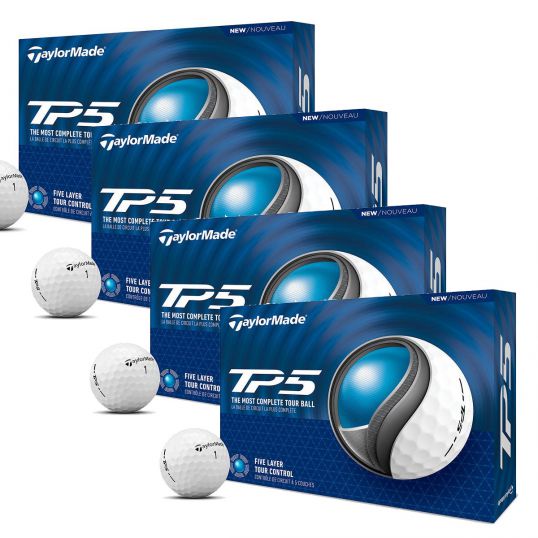 Please note custom orders usually take 10-14 days to be built by the manufacturer.
Show Customer Product Reviews
Personalised TP5 and TP5x Golf Balls - 4 for 3 Dozen
For a limited time only you can buy 3 dozen TaylorMade TP5 golf balls and get a fourth dozen absolutely free. That alone is a good deal but there's more. You can have all 48 balls personalised with text of your choice!
Choose the colour of your text then fill in up to 3 lines with a maximum of 17 characters per line and we will have them printed free of charge. The only thing we won't do is proofread your order so make sure your spelling is how you want it on the finished ball.
More Speed in the Most Complete Tour Ball
Packed with new technologies in 2019, TP5/TP5x just got even faster with a greater rebound effect and optimized spin rates. There's no ball faster, no ball longer, and no ball better than the most complete Tour ball.
5-Layer Construction
The key to achieving enhanced speed without negatively affecting spin performance comes from TaylorMade's proprietary 5-layer ball construction. Including a Tri-Fast Core that delivers maximum carry and low drag and a Dual-Spin Cover that features an ultra-soft, highly durable cast urethane cover, TP5/TP5x offer complete tee-to-green performance without sacrifice.
*NEW* Speed-Layer System
The new Speed-Layer System is comprised of four increasingly stiff layers to produce more ball speed. The result is more carry distance off the tee, more control in the wind, and more spin around the greens.
*NEW* High-Flex Material (HFM)
The 2019 TP5/TP5x feature a new material called HFM—delivering for higher ball speed through a greater rebound effect. HFM acts like a tightly wound spring that builds energy and rebounds quickly, generating more ball speed.